Posted On 02 Nov 2022
How does ClickCease Work
Interesting to know how does ClickCease work? Let me tell you about it in detail. ClickCease is a software service that blocks invalid traffic, or non-genuine clicks, on your paid ad campaigns. Marketers prevent bots, click farms, and other non-converting traffic from spending their ad budget by blocking invalid traffic.
Marketers can benefit from more efficient PPC campaigns, more effective retargeting and remarketing, and cleaner analytics by reducing invalid traffic. This tool uses military-grade cyber fraud detection to analyze which clicks are authentic and which ones are fraudulent.
Key Takeaways: Clickcease offers a solution for blocking unusual and bot clicks on your website and ads. But there are still loop holes and you should consider counter attack on competitor's who are trying spamming.
Cyber fraud detection can be indispensable for companies that pay for multiple PPC ad campaigns. ClickCease monitors your website and tracks every visitor that enters your site. Now let's look at how does ClickCease work.
How does ClickCease Work?
This Google Ad fraud protection software eliminates invalid IP addresses and blocks fake clicks. It's all done to boost your PPC ad campaigns so that you can generate more qualified leads. Let's discuss how does clickcease work and it clickcease worth it or not?
I have divided it into different steps to explain what and how does ClickCease work.
1.    Monitor your Ads
ClickCease monitors your website and tracks every visitor that enters your site. It provides 24/7 monitoring of every visitor that comes to your website and platforms. All paid traffic sources are monitored, including Google Ads, Facebook Ads, Instagram, Microsoft Bing, YouTube, Messenger, and audience networks.
2.    Click Fraud Detection
It analyses data points such as click limit, VPN detection, and geolocation. It will also detect if the same device is clicking on your ads repeatedly. Each visit to your platform goes through the ClickCease Fraud Detection Algorithm.
3.    Block Fakes Clicks and Visitors
Once the analysis has been critically done to determine the fake clicks and the real ones, Clickcease blocks the fraudulent users. Their IPs are sent to your Google Ads exclusion list, and users are excluded on Facebook, preventing them from seeing and clicking on your ads.
4.    Isolates IP Addresses
Once the fake IP addresses have been sent to the Clickcease exclusion list, it isolates them such that you do not accidentally unblock them. If there is any competitor who is intentionally doing multiple clicks on your ads, you can manually block them with just a tap of a button. You can also set a time frame for when you want an IP address to be blocked.
5.    Save Cost for Genuine Traffic
Let your ad budget go to real potential customers only. Protect your budget from wasteful spending by blocking fake traffic. Decrease your cost per conversion while increasing your number of conversions.
How does Clicking Work?
Clicking is an online advertising model in which an advertiser pays a publisher every time an advertisement link is "clicked" on. Alternatively, Clicking and PPC is known as the cost-per-click (CPC) model. The pay-per-click model is offered primarily by search engines (e.g., Google) and social networks (e.g., Facebook).
Keywords Tracking
It is primarily based on keywords. For example, in search engines, online ads (also known as sponsored links) only appear when someone searches for a keyword related to the advertised product or service.
Website
Searching a website by keywords and clicking on it through a bot or program is very easy. It already saves instructions in bot keywords and websites. For digital marketers, a website search can help gather information and data on your website and competitors' websites.
Pay-Per-Click Model
Therefore, companies that rely on pay-per-click advertising models research and analyze the keywords most applicable to their products or services. Investing in relevant keywords can result in more clicks and, eventually, higher profits.
It is considered to be beneficial for both advertisers and publishers. It provides an opportunity to advertise products or services to a specific audience actively searching for related content.
For publishers, the clicking model provides a primary revenue stream. Think about Google and Facebook, which offer free services to their customers. Online companies can monetize their free products using advertising, particularly the clicking model.
ClickCease vs. ClickGuard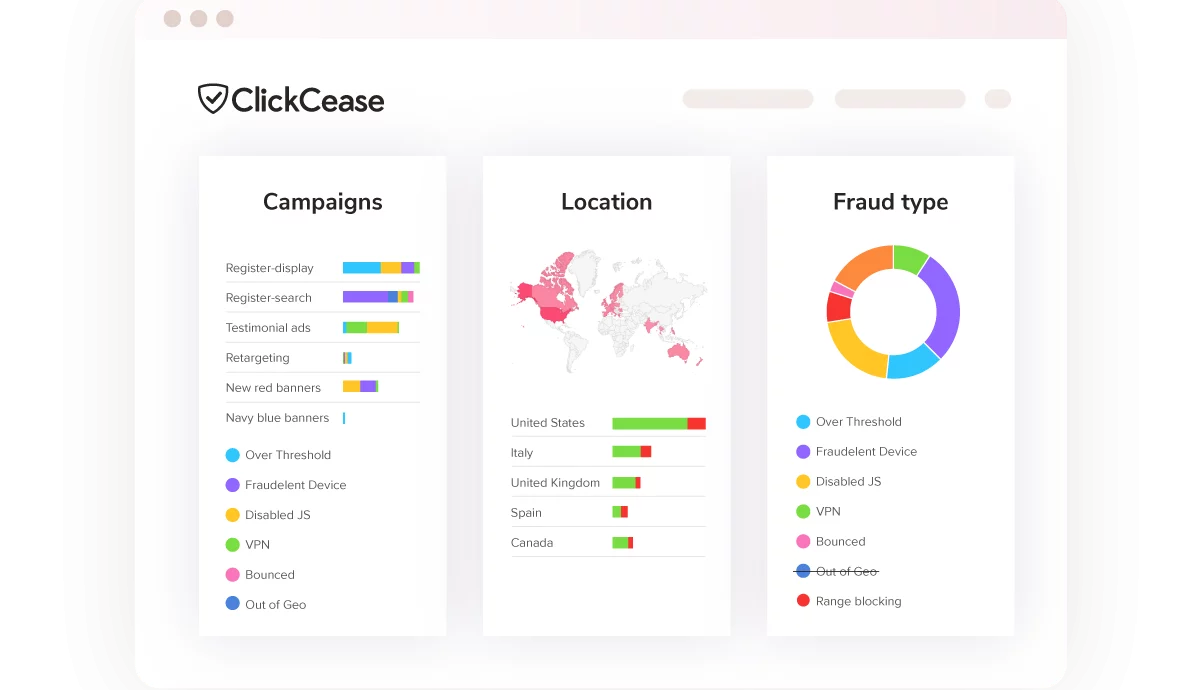 1.    ClickCease
PPC advertisers are interested in optimizing their campaigns by eliminating fake clicks on their PPC campaigns. ClickCease protects Google Ads and Facebook Ads from fraudulent activity saving you money; how does ClickCease work? Below are some features.
Platforms supported
Web-based
iPhone app
Android app
Typical customers
Freelancers
Small businesses
Mid-size businesses
Large enterprises
Customer support
Phone
Online
Knowledge base
Video tutorials
2.    ClickGuard
ClickGUARD is an advanced click fraud protection solution for organizations of all sizes to run secure PPC campaigns. The solution detects and eliminates fraudulent and illegitimate clicks from campaigns while preventing potential damage and mitigating future threats.
Platforms supported
Web-based
iPhone app
Android app
Typical customers
Freelancers
Small businesses
Mid-size businesses
Large enterprises
Customer support
Phone
Online
Knowledge base
Video tutorials
ClickCease has 176 reviews and a rating of 4.7 / 5 stars, and ClickGUARD has 140 reviews and a rating of 4.86 / 5 stars.
Note: Both are good solutions for detecting click fraud. ClickCease has 176 reviews and a rating of 4.7 / 5 stars, and ClickGUARD has 140 reviews and a rating of 4.86 / 5 stars.
You can compare the similarities and differences between this two software to protect your campaigns from unwanted click attacks according to features, ease of use, customer service, and value for money.
Is ClickCease Worth It?
Although ClickCease can handle many spammy click attacks on your advertisements and your website, its algorithm isn't 100% effective. Some well-built bots can penetrate through the ClickCease shield and damage your campaign budget plans.
You might think that if even the ClickCease can't protect your website and campaigns, what options are left? Here's the solution. If you're getting spam clicks even after using ClickCease, you should return the favor by attacking the attackers using Google AdWords Bot so they don't bother you again.
Why Choose ScrapeWithBots Google AdWords Bot?
Google Adwords Bot clicks on your competitor's google ads. If you know someone has been attacking your ads, you should return the favor by purchasing this tool. We give 24/7 support to help you run this software on your computer.
Important: There might be the case, these tools are unable to stop click spam from your competitors. Use our effective bot and gain an edge over these type of competitors by counter attacking.
How to use the software?
Our Google Adwords Bot goes onto google, searches the given keyword, and then clicks on the ads displayed on it. It can enter the number of times you want it to click. Every time before it is going to send a click,
It ensures it has changed the IP address and other parameters to maintain anonymity. Please remember you can use a VPN. It's optional but recommended. If, during this process, the bot encounters the reCAPTCHA, it can solve it using 2captcha API.
Features You Need
Feasible Price as compared to other markets' software
It is updated from time to time
It provides 24/7 customer support
A team that is very well-mannered and willing to solve every problem that you are facing
FAQS: How does ClickCease Work?
ClickCease has an overall rating of 4.7 out of 5 stars based on 176 user reviews on Capterra.
A click bot clicks on ad campaigns and increases the cost for the publishers of the ads. These bots can target ads on specific keywords and specific URLs as well.
Yes, attack bots click on your Google Ads to affect your campaign negatively, and your competitors usually launch these. You can counterattack them using the Google AdWords bot by ScrapeWithBots.
Final Verdict
This summary of how does ClickCease work is a very good solution against ad mismanagement and click fraud detection. It comes with all the necessary tools to monitor clicks and can be easily integrated with your existing system.
ClickCease is the most effective way to minimize exposure to the biggest forms of click and ad fraud. But still, you need to have an effective weapon in your arsenal and a defense system.
If you're interested in using the Google Adwords Bot tool for your next PPC campaigns, contact ScrapeWithBots and get your job done with efficient bots.