Posted On 27 Sep 2022
How to Add Rythm Bot to Discord
In its most basic version, Rythm is a music bot that filters a song queue when a playlist is created. By assuring usability, stability and offering music functions for the most outstanding music bot experience, it seeks to be the best at delivering high-performance and high-quality music.
Now you can enjoy your favorite songs with your best friends just because of rythm. To do this you just have to add rythm to Discord and start enjoying! You won't believe but over 16m servers are using Rythm –  an amazing and giant bot on Discord.
Advantages: Adding a Rhythm bot to Discord can enhance the user experience by providing a fun and interactive way to listen to music.
The current best music bot is Rythm. So if you are trying to bring music back to your discord, don't worry. You are at the right place. Here's how to add rythm bot to discord and get the current best music bot Rythm.
If you want to add the other Rythm bots, visit our releases on scrapewithbots.
How to Add Rythm Bot to Discord?
When you are a discord user and enjoy listening music while chatting with friends or plying games, so music bots are available to make things smooth for you. Because with music bots you can fulfill any of your specific purpose. Discord music bots allow all the server members to enjoy and make a playlist with their favorite songs. 
More specifically, the Rythm bot supports SoundCloud, Twitch, YouTube, and multiple musics streaming services to play on Discord.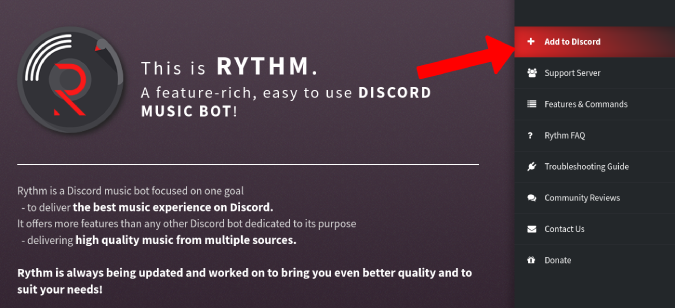 Here's how to add rythm bot to discord; follow the steps below. If you already have a Discord account, follow these simple steps to add, configure, and use Rythm Discord Bot in minutes.
1- Add Rythm Bot
If you want to add the Rythm bot to your Discord. Go to the official Rythm webpage and click on the "Invite Rythm to your Discord" button. Using any browser, visit the Rythm bot's website, rythm.fm. You should have no problems with this as long as your internet connection is good.
2- Invite the bot
Click on the "Invite the bot" button.
3- Select Server
Choose the server you like to add the Rythm bot and click on the "Continue" button.
4- Authorize
Use your credentials to log into your discord account. Authorize Rythm to access your discord account. All boxes, including the 'Administrator' box, should be checked. Your other settings will be invalid if you don't do this.
5- Add options
Then you will get an option to add the Rythm bot to any discord server you like.
6- Voice channel
Once you have added to the server, go to the voice channel. The "Rythm" bot has been successfully added to our Discord server.
Let's look at how to add rythm bot to discord on a mobile application.
How to Add Rythm Bot to Discord Server on Mobile?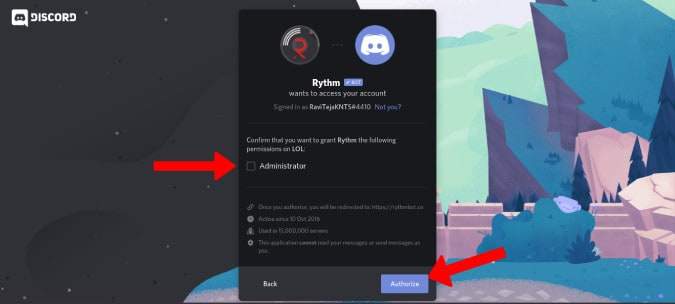 Are you worrying that you may not enjoy rythm bot because you're a mobile user? We're here to solve your problem and will tell you how to add rythm bot to discord server on Mobile.  Now, Discord mobile users can enjoy their favorite songs by adding Rythm bot to their accounts. These instructions will help you to add this amazing bot on your device.
Visit Rythm Bot and click on invite the Bot.
Go through the details of account access the bot needs. For more info on the Rythm bot, data access jump section A.
From the Add to Server Dropdown section, the server where you want to play music.
Tap on Continue after picking a server and then verify the permission list.
Refer to section B to know the list of server permission. You can customize the same before Authorizing Rythm Bot on the server.
Finally, tap on Authorize and verify the captcha.
Commands to play Music on Discord Mobile
Create a Voice Channel and name it whatever you want. I prefer Music, or you can go more specific like Jazz or Rock. It will be visible on the left pane below your server. Do not forget to invite your friends and then use the following commands to play music.
!join – Add the bot to any other voice channel. Make sure there must be at least one member in the channel for the bot to play music.
!search – Search for a song by name or artist.
!soundcloud URL/Query – Play a song directly from SoundCloud. Either use the URL or just search by typing! Soundcloud Havana.
!lyrics – Get the lyrics of the song.
!disconnect – Remove the bot from the voice channel.
How to Use Rythm Bot in Discord?
Now you can enjoy music with your discord community with the help of a famous music-playing bot "Rythm bot". By assuring usability, stability and offering music functions for the most outstanding music bot experience.
Key Takeaways: To use the Rythm bot in Discord, first add the bot to your server, then type "!join" to have the bot join your voice channel, and use the "!play [song name]" command to play a song.
Two Ways
With Discord, you can play music in two different ways. You can play your favorite music using your mic or add a Discord music bot to your server. These music bots allow users to share music with all the members of the server at the same time. The songs can be from different sources, such as Spotify, YouTube, Soundcloud, and other sources.
If you love to listen to your favorite music while playing or chatting with friends, continue reading about how to add rythm bot to discord to learn more about how to use rythm bot in discord.
Command
Everyone in the group may listen to the same music using the command "Play" followed by the song's name or the YouTube URL to start playing it.
Prefix
With a prefix! Before it, you may also use additional commands like skip, delete, loop, etc. Learn more about using Rythm in the Discord bot by looking at this set of controls. Check to see if someone attempts to spam Rythm commands on your channels. To achieve this, click the addition "+" symbol next to text channels to add a new music control text channel.
Create Channel and Edit Channel
Click "Create Channel" and give the channel a memorable name relevant to music control. To force individuals to utilize the specific channel we have developed to manage the music, ensure the instructions are not operable on any other media. Right-click the channel name twice to block more channels and choose "Edit Channel."
Plus Sign
Select the Plus "+" symbol next to Roles/Members by clicking the Permissions option in the left sidebar.
List
From the list, choose the Rythm bot.
Read Messages
Turn off the "Read Messages" permission in the Rythm role permissions views to prevent Rythm from reading messages from the channel. It could make consumers quit using other media to control music.
Repeat the Process
Finally, to ensure that the channel we built is the only remaining, you must now repeat the process for all the text channels on your server.
How to begin using Rythm bot in Discord?
Now that you have successfully added the music bot to the Discord server, you can use Rythm to listen to your favorite songs with friends. Refer to the steps provided on how to do it:
Select which of the voice servers you want to share your music with.
In the voice channel selected, type the command !play with the title of the song you want to listen to with your friends.
How to Use Rythm Bot?
Now when you've learned about how to add rythm bot to discord, you must be wondering how to use Rythm bot?  You may not know about the prefix of rythm bot, well it's "!". With it you're free to use some directives like play, pause, resume, shuffle, queue, etc. To start playing the song, click on the command "!Play" and then type the name of the song or YouTube URL, and you can enjoy the same playlist with your friends.
You can similarly use other commands like skip, remove, loop, etc. For more, visit ScrapeWithBots.
To protect all your channels from people's continuous spamming of Rythm commands that ultimately results in "spam", you need a separate channel. For this you just have to click on the plus " + " sign beside text channels and you'll have a separate music control text channel. 
Adding Music Bot to Discord
If you don't have programming experience, don't worry, Discord Bots are pretty simple to add and maintain. There are several bot providers available on the web. All you need to know is which one you'd like to use.
In this article, I'll walk you through the process of adding a music bot to your Discord server.
The first step is finding a bot you'd like to experiment with. There are bot repository sites with hundreds or thousands of bots listed, along with descriptions and reviews from other users.
Log on to the server where you have permission.
Visit the bot's website, in this case at ScrapeWithBots.
Select "Add to Discord." Other bots may allow you to "Invite" rather than "Add to Discord." They're both essentially the same thing.
Select "Authorize."
Fill in the captcha to demonstrate that you aren't a robot so that you can install your robot.
FAQS: How to Add Rythm Bot to Discord?
Launch Discord and join a voice channel. Type "!search" and enter the song or artist. The bot will list the results. Please enter the number of the song and add it to your playlist.
As you may have already heard, the most giant music bot on Discord, Rythm was shut down. It was unfortunate, but this happened because Google sent them a cease and desist letter to take down their services because they violated YouTube's Terms of Service.
Conclusion
Now you know how to add Rythm bot to discord. In short, open the browser, visit Rythm's official website, and click "Invite Rythm to your Discord." Then, choose the server you like to add the specified bot.
I hope this helped you in your trouble to add a bot to discord. To know more about bots and their addition to Discord, visit our blog and give yourself an informational treat.