Posted On 16 Nov 2022
What is Marketing Automation in CRM?
Marketing Automation is software that allows companies to effectively target customers with automated marketing messages across channels, including email, websites, social media, and text messages, to generate sales leads.
The technology is a segment of customer relationship management or CRM. Just like automation in any other department, marketing departments typically use it as a way to remove repetitive tasks from staff workflows and increase overall marketing efficiency.
When we look at what is marketing automation in CRM and common challenges faced by businesses, we know that generating leads and keeping customers engaged throughout their journey remain top of mind. Moreover, marketing automation software can help overcome these challenges by putting data to work by streamlining our workflows.
What is Marketing Automation in CRM? – How it is done?
Marketing automation uses technology or software to automate a company's various marketing activities. Marketing automation tools allow modern businesses to streamline, automate, and measure the return on their efforts, leading to a more efficient marketing team and increased revenue.
What is meant by Marketing Automation?
With marketing automation, you can send customers automated messages through email marketing, social media, SMS, and Messenger Marketing. You'll use an automation platform to send messages based on a set of instructions you create called workflows.
Marketing Automation allows you to streamline your marketing processes and campaigns across multiple channels.
Marketing automation in CRM mainly focuses on the following three sections.
1- Personalization and Targeted Email Marketing
Marketing automation software provides you with customer data that lets you target each customer with the content most relevant to them based on who they are and how they interact with your company.
It ensures each lead is always sent the content that will help them overcome their specific barriers to purchase—no more sending out ineffective mass email campaigns to your entire list. Here's an example of this in practice.
A prospect visits one of your landing pages and fills out a form to download your eBook.
You automatically send them the eBook in an email.
The prospect clicks on the link to download the eBook.
They then click on a link to your pricing page from within the eBook—but they don't take action.
You automatically email them asking if they'd like to set up a call with a sales rep to discuss their options.
They fill in an online form with a time they are happy to speak.
A sales rep at your company is notified and calls them at the allotted time.
2- Identify Strong Leads
Marketing automation software lets marketing teams score leads based on the likelihood of them buying your product. You set points for each action a lead takes, and when the lead reaches a predefined point total, you pass the lead on to your sales team to follow up.
For example, if a lead has opened all your emails, signed up for a webinar, and visited your website's pricing page, this is a warm lead. Someone who only opens your email sporadically and never clicks through to your website is cold.
3- Segment your Customer Base
Marketing automation platforms help you segment your customer base, allowing you to target different groups with the most relevant marketing strategy. By segmenting customers based on their location, the pages they visit, or buying preferences, you can create a better customer experience and stronger customer relationships.
For example, an accountancy firm that offers tax, year-end accounts, and payroll services could segment its leads based on the pages on its website that leads visit. If they spend a lot of time on the payroll page, target them with the most effective strategy for people interested in payroll.
CRM VS Marketing Automation
Although CRM software and marketing automation tools may appear similar initially, they serve two different purposes. Hence, it's essential to understand precisely what each software aims to accomplish and what marketing automation in CRM these tools can be beneficial for your business.
CRM helps in sales processes while Marketing Automation helps in increasing our leads and optimization of campaigns.
1- Marketing Automation
Marketers typically use marketing automation software to schedule and track marketing campaigns—especially email campaigns and mass business-to-customer communications.
2- What is CRM?
In a nutshell, a CRM helps you handle customer relationships, manage contact and sales, and improve agent productivity. You can store information about contacts, including their purchase records, phone conversations, and records of inbound emails. Most importantly, a CRM lets you optimize one-on-one client interactions, enhancing customer satisfaction and increasing sales.
3- Key Differences
Generally, marketing automation primarily manages digital campaigns, email marketing, lead tracking and scoring, and landing pages.
On the other hand, CRM manages the sales pipeline process: individual emails, lead status tracking, task management, opportunity tracking, and pipeline reporting.
While CRM generally drives and increases sales, marketing automation helps generate and nurture leads.
4- Target Audience
A CRM platform broadly caters to sales reps, whereas a marketing automation system helps team members focus on marketing.
5- Purpose
A marketing automation tool helps you automate campaigns using predefined conditions and triggers. It's usually used for short purchase cycles. On the other hand, a CRM helps you manage sales processes, assign tasks to sales reps and maintain an organized database.
6- Goal
Using a CRM solution, you can manage customer relationships and improve sales reps' performance and productivity. A marketing automation platform helps you measure marketing's contribution to the overall ROI, generate qualified leads, and improve workflows for sales and marketing.
What is Marketing Automation in Digital Marketing?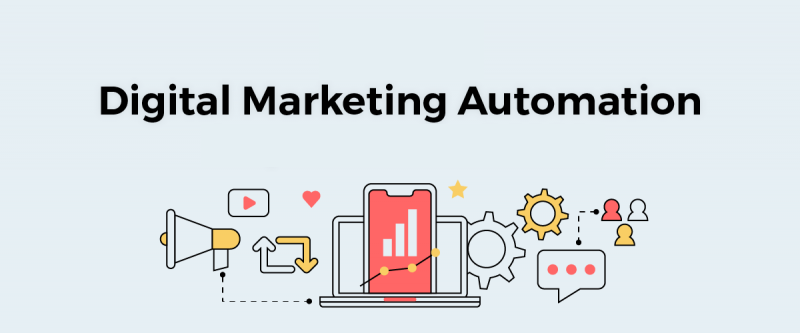 Digital marketing, also called online marketing, promotes brands to connect with potential customers using the internet and other forms of digital communication. It includes email, social media, and web-based advertising, as well as text and multimedia messages as a marketing channel.
There are as many specializations within digital marketing as there are ways of interacting using digital media. In which,
Search engine optimization
Content marketing
Social media marketing [Facebook, Instagram, YouTube]
Marketing Automation and Digital Marketing
Marketing automation software streamlines the marketing processes used to support digital marketing campaigns. It can include campaign management, audience segmentation, behavioral analysis, website monitoring, and lead scoring. To learn more about automation, you can visit our dedicated guide on the benefits of automation.
Types of Marketing Automation in Digital Marketing
Ecommerce stores use multiple types of automation to cut inefficiencies, optimize day-to-day operations, and boost productivity.
Chat marketing automation
Chat Marketing helps fuel and automate the entire funnel. You can achieve three essential automation operations through various opt-in tools (Growth Tools) and drag-and-drop workflow builders.
Email marketing automation
As a new business owner, email marketing automation is one of the first types of automation you'll encounter. There are scads of tools out there (which we'll look at shortly) to help you get up and running.
CRM (Customer Relationship Management) automation is similar to (but not the same as) email marketing. Marketing automation specialist tools deliver content to customers, while marketing automation in CRM automation helps sales and customer service roles effectively engage in lead management and customer retention.
Facebook advertising automation
When paired with CRM automation, email and Chatbot marketing are massive options for nurturing existing leads, but where can you acquire new leads? Hmm… what about the platform that boasts a monthly active user base of an astounding 2.8 billion? Oh, right: Facebook.
Facebook offers varied ad types you can use to automate your lead generation, such as Single Image or video ads, as well as its 'Instant Experience' ads. If you're keen on the Instant Experience ads, you'll want to choose from either Collection Ads or "lead ads," depending on whether your business is e-commerce or service-based.
CRM Marketing Automation Examples
Various CRM automation platforms are available in the market, each providing its own features. They serve companies from different industries, markets, sizes, and geographies.
Hubspot CRM
Salesforce Sales Cloud
Zoho CRM
FreshSales
Bpm'online CRM
FAQs: What is Marketing Automation in CRM?
Marketing automation software often integrates with customer relationship management (CRM) and customer data platform (CDP) software. Marketers can use automation tools to personalize the messages or content they send to leads.
Business-to-business (B2B) and business-to-consumer (B2C) companies can benefit from marketing automation. Both can use marketing automation platforms to keep their marketing materials current and deliver them to the customers most likely to act on them -- without over-communicating with the customers who are less likely to act on the information.
Final Words
Both Marketing Automation and CRM complement each other and offer some shared functionalities. And that's why it's best not to compare them with the intent of choosing one over the other.
While marketing automation allows you to manage digital campaigns and prioritize leads, CRM enables sales reps to manage these leads and opportunities.
We recommend that you evaluate CRM and marketing automation solutions on their own merits and determine what works best for your business. Let us know your take on this article in the comment section below!